WELCOME
Welcome to the Mononoke Wiki, an encyclopedic resource of everything about the anime series Mononoke, founded on February 26, 2010!
Please note the wiki is rather barebones and messy at the moment. Please consider contributing if you are knowledgeable about the series.
If you are looking for the 1997 Hayao Miyazaki film of a similar name, please instead visit the Mononoke-Hime Wiki.
WHAT IS MONONOKE?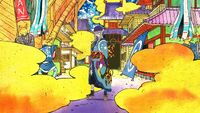 Mononoke (モノノ怪) is a 2007 Japanese animated TV series by Toei Entertainment, and a spinoff of the earlier anthology series Ayakashi: Samurai Horror Tales. It follows the enigmatic Medicine Seller as he investigates and exorcises lingering spirits, the titular Mononoke.
HOCUS POCUS!
The Mononoke Wiki is featured in a Halloween-themed editing event! See what you can do to help the wiki by checking out our to-do list:
New wordmark
New background
Character page content seeding
Manga hub page creation
Removal of all content related to Princess Mononoke (Ghibli film)
Randomizer
Want to be surprised? Click the "ROLL THE DICE" button to land on a random page that you may have thought that never existed in this wiki before.
Discussions
Do you like Mononoke? Do you want to talk about this series? Or do you simply want to share some fanart, fanmade videos or other media? Click "JOIN THE DISCUSSION" to talk with the community!